Schools and educators have, throughout the pandemic, moved metaphorical mountains to keep the nation's children engaged and up to date with their education.
Taken out of their usual environment and robbed of the physical presence of their students, they have had to get increasingly creative, using remote tools and techniques to try and motivate students to learn in their own homes.  
Despite the best efforts of teachers there have been significant losses of learning, in children from deprived or disadvantaged backgrounds who did not have access to the same technology as some of their peers.  
While remote learning is not a new concept - with many universities offering distance learning degrees and short courses - it is not something that we have typically seen used in K12 education.
However, the pandemic has taught us that in this case, as in many other areas, a hybrid approach will yield the best results. This means that it is up to the government and schools to ensure that every student has access to the tools they need to complete their education to their full potential.  
Making EdTech mainstream  
Education technology, commonly known as EdTech, is an umbrella term used to describe the wide range of learning-related software and hardware available to facilitate active learning environments.
The growing importance of technology in education is something that schools can no longer ignore, with things like virtual classrooms set to become a more permanent fixture in the educational landscape.
As all parts of our lives are moving increasingly into the online space, equipping young people with digital skills is more important than ever.  
This all sounds great in theory, but what do you actually need to facilitate a connected education experience for your pupils?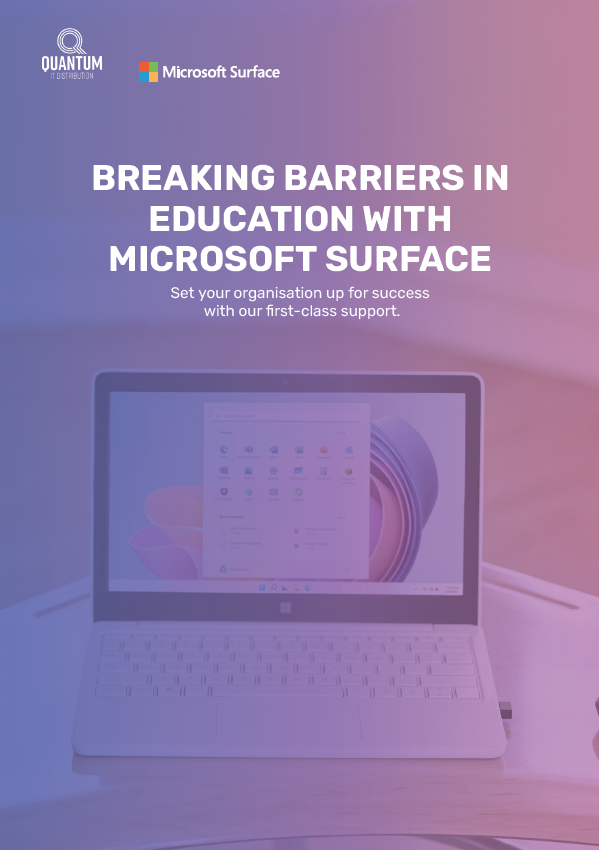 Breaking Barriers in Education with Microsoft Surface
Designed specifically for 1:1 learning, we're really impressed with Microsoft Surface and wanted you to have this eBook to help you understand how you can set your school up for success.
Download the eBook
Strategy first – then technology 
Incorporating educational technology is much more successful if implemented as part of a comprehensive digital strategy. Through the pandemic every school will have learned a lot and gained experience in how to fast track digital adoption in the short term to meet an immediate need.
However, it will be of much greater benefit in the long term to consolidate this short-term outlay and keep momentum up with a longer-term plan. Your plan should include everyone, teachers, decision makers, students, and parents, and take into consideration the needs and potential input of each group.
There are a multitude of schemes, guides, and potential partners to help you develop and implement a digital strategy, a good starting point is EdTech UK who offer lots of information and advice. 
Benefit for students – digital skills for life 
It is easy to think of technology purely as a facilitator of education, however, learning how to use a range of different hardware and software during their time at school with stand pupils in good stead, furnishing them with a host of transferable skills as they progress into the working world.
Putting together a strong digital vision, and potentially working with technology partners, to equip students with the access, hardware, and technology to digitally upskill themselves will open doors in the future.  
Introducing coding to children at an early stage helps them enhance computational thinking, which is the ability to express thoughts in a rational and sequenced way. Computational thinking is a transferrable skill, which lends itself to a proficiency in mathematics, sciences, and applied logic.
Coding also encourages children to think freely and be creative; coding offers endless possibility and allows children to use their imaginations to maximise creative potential. All this and more are made possible by introducing a digital skills strategy to your school and providing the right technology that children need to grow and be successful in the future.