Running a growing and evolving set of public cloud services in a dynamic environment can easily get out of hand from both a managerial standpoint as well as a financial perspective.
Early on, organisations embraced the cloud primarily as a way to save money. But just as "server sprawl" was a problem with data centres, "cloud sprawl" has quickly become a challenge for companies going all-in on cloud providers like Amazon Web Services (AWS), Microsoft Azure, or Google Cloud Platform. The cloud is scalable and elastic, but with this new ability to scale resources up and down comes the risk of underutilizing or wasting resources you forget about over time—negating any potential cost savings in the cloud.
Purchasing Cloud Resources
To further complicate the cost of the cloud, instances can be purchased at different rates, depending on how and when they are used. When left to individuals across different departments, teams, and business units, purchase decisions are less than optimal. They say you shouldn't shop for groceries when you're hungry, at risk of over-buying. The same applies to acquiring instances: Buying On-Demand instances is the most expensive way to use the cloud, but Reserved Instances (RI) require long-term commitments to achieve discounts and savings.
---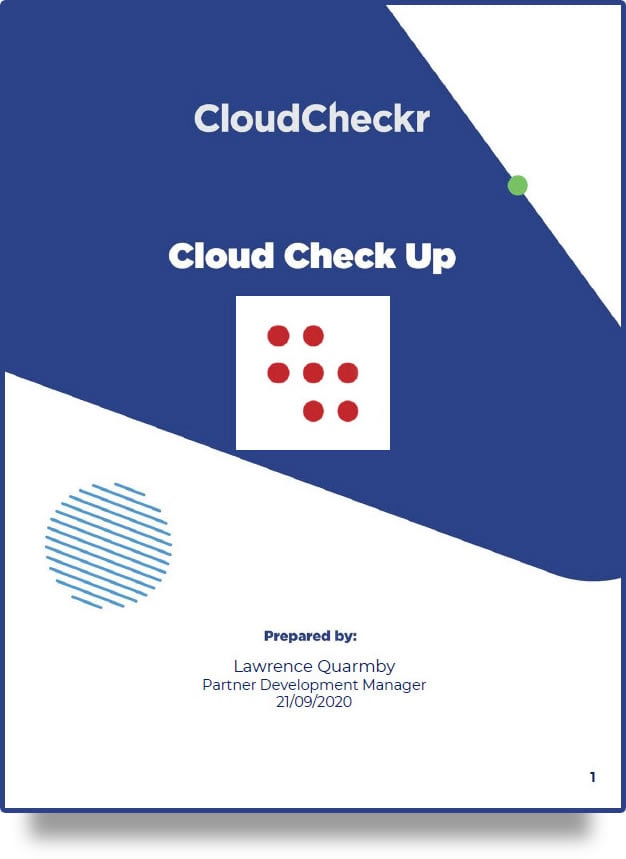 Your report will pinpoint wasted resources, provide resource re-sizing recommendations, and ensure every dollar spent is optimized across Amazon Web Services and Microsoft Azure.
Free Sample Report
Cloud Check Up
7 Steps to Easy Cloud Optimisation that will save money
We have seven best practices we suggest for getting a handle on your cloud costs and reducing your cloud bills. These strategies include: 
Finding unused or unattached resources
Identifying and consolidating idle resources
Utilising heatmaps 
Right-sizing Computing Services
Investing in AWS Reserved Instances (RIs) or Azure Reserved VM Instances (RIs)
Take Advantage of Spot Instances
Considering Multi-Cloud vs. Single Cloud
If these steps seem intimidating, you can enlist the help of a cloud management platform (CMP). A cloud cost management platform can examine usage, recognise trends, predict patterns, and help enterprise businesses make optimal purchasing decisions, automatically.
It can also enforce best practice checks to make sure only authorised users are spinning up instances, ensuring your cloud stays in check as you scale. 
Some solutions go even further, offering the ability to rebalance Reserved Instances across multiple organisations to leverage discounts and support AWS Savings Plans, which allows customers to purchase resources at an hourly rate. A CMP with the ability to start-and-stop instances to ensure you stick to a schedule that optimises your Savings Plan is crucial to seeing the financial impact AWS intends. 
Enterprises today need to be quick and lean, which is why the cloud is so attractive. But they also need to stay safe as you grow—which is why a comprehensive cloud management platform should unify cost and security management with compliance capabilities and self-healing automation.
With a full-service CMP modern enterprises can reduce cloud sprawl, right-size their cloud, and enforce security best practices to see the financial benefits they were promised.
Start Saving Today with a Cloud Check Up by CloudCheckr
A cloud cost optimization report starts by identifying unused and completely unattached resources and removing them. We'll highlight wasted or underused resources to keep costs in check.
Reserved Instance savings can reach up to 75%, so this is a must for cloud cost optimization. RIs can be purchased for one or three years; we'll analyze your past usage and generate a report that helps you save well into the future.
Managed service providers trust CloudCheckr to help boost margins, increase billing accuracy, reduce invoice processing time, and provide recommendations that increase their professional services pull-through.